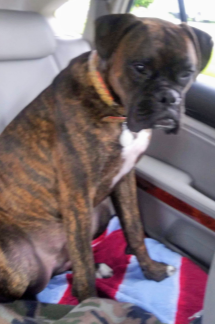 ID: A19-025
Status: Adoption Pending
Age: 18 mos
Gender: Male
Color: Brindle
Weight: 72 lbs
Ears: Natural
Tail: Docked
Children: Unknown
Dogs: Yes
Cats: Unknown
Contact: Laura
Our Foster Dogs are always in need of supplies.
Please visit our Amazon Wish List to donate!
08/11/19 – Hi! My name is Bane and I am a Boxer with a little bitty touch of mastiff according to Ancestry.com. My Mom and Dad have had long hours at their new jobs and loved me enough to want me to have more time with humans. They were thinking of me because I am a good boy who loves to snuggle but am full of puppyhood energy. So now I will get some training and direction and learn how to be the best I can be. I already learned a new trick my 1st day in foster care. I am really smart and eager to please
But check back when things settle a bit and I hope to have some great updates.