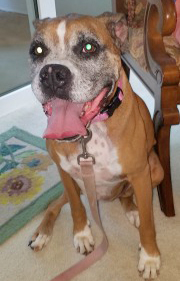 ID: A19-007
Status: Available
Age: 9 yrs
Gender: Female
Color: Fawn
Weight: 68 lbs
Ears: Natural
Tail: Docked
Children: Yes
Dogs: Yes
Cats: Chases
Contact: Dawn
Our Foster Dogs are always in need of supplies.
Please visit our Amazon Wish List to donate!
10/08/19 – Bess is great with people of all ages and gets along with other dogs.  She is a happy well-adjusted girl with lots of love and boxer kisses to give!  Bess deserves a forever home of her own!  Will it be with you?  
03/01/2019 – Bess is the epitome of a loving senior Boxer. She could not be any sweeter! All her lumps and bumps were removed and none were suspicious. She has lived with other Boxers, rottweilers and greyhounds. Such a laid back sweetheart!
Anyone need a Boxer like this special girl?
02/15/19 – Today was a great day for me! My blood tests came back PERFECT! Not one worm or parasite in my body! I also got to visit a place where many humans live called a nursing facility and they all loved me! I kissed one lady at the door who was in a chair with wheels and we were nose to nose so I couldn't resist. She seemed so happy I did that! My foster Dad thought my little nub was going to wiggle off with all the wagging I did! I hope they will let me come again.
What a great day for me! Good health report and nice visit with lots of people who loved me!
2/11/19 – My name is Bess and things have really changed in my world the last few months. Yesterday, I went to a home with very nice people and a Greyhound fur brother, and they tell me I am smart. I can sit and shake, I love car rides, boat rides, and swimming. I also like other dogs, chasing squirrels and birds, and cats, too. I love kids and people and cookies, and I'm told I give lots of sloppy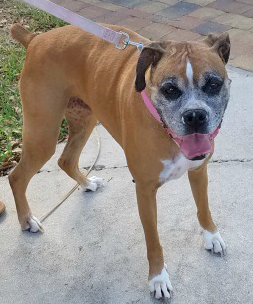 Boxer kisses. Don't let my age fool you! I'm a good girl with lots of love to give to my new family when they find me. I'm waiting for YOU!