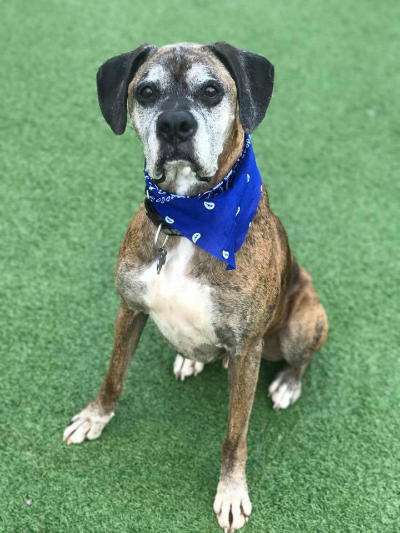 ID: A17-005ra
Status: Available
Age: 8 yrs
Gender: Male
Color:  Brindle
Weight: 80 lbs
Ears: Natural
Tail: Docked
Children: Yes
Dogs: Yes – with slow intros
Cats: No
Contact: Dawn
Our Foster Dogs are always in need of supplies.
Please visit our Amazon Wish List to donate!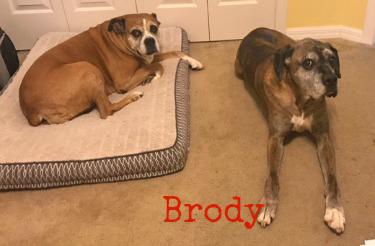 08/26/18 –
Brody is a handsome male boxer he loves his fur sister but is a little selective about his fur company. He is loving and playful and would love to have his own forever home. Please come and meet this handsome boxer.
01/09/18 – Hi! Brody here just checking in with everyone!
I have a wonderful foster home but I don't understand where my forever family is or why they haven't they come for me. I am a good boy and have settled in great in my foster home. I am getting along extremely well with my foster sister Lilly.  I have lots of playful Boxer energy and am told I act like a dog half my age.
I love to play with toys and am a BIG fan of snuggling with my humans.  I also like to go on walks.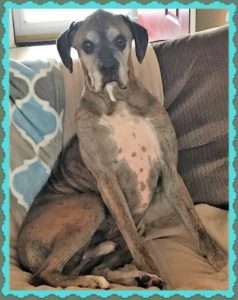 This handsome gentleman is waiting for and is deserving of his forever home.
11/21/17 – Brody here and it's time for another update, including some new pictures. I have lots to tell you since I came into this wonderful Foster home. I am having so much fun playing with my foster sibling, Lily. We get along really well. We play in the back yard together and my foster parents take us for walk around the neighborhood. My foster dad reports that I am a very active and playful guy. You'd never know that I'm 8 years young. All I'm looking for now is a permanent home – a place that I would never have to leave. I'm crate-trained and house-trained. I get along with all humans, even children. Please think about adopting an active, playful senior and I promise to give you unconditional love. Just fill out the application under Adopt and we can arrange to meet. I'll look forward to it!!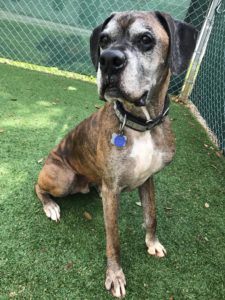 10/15/17 – Hello! I'm so happy to report that I have moved into a foster home with wonderful foster parents and a fur sibling, named Lily. I was told that she also came through the Boxer Angels. I cannot tell you how great it feels to have some freedom. Next up for me will be to find a forever home!! Really, I'm a great boy and would love to meet you!
9/24/17 – Hello! Thanks for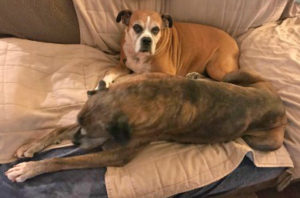 stopping by to visit me. My name is Brody and I am so excited to tell you what's been happening recently. You see I have been having all kinds of fun in training with other dogs and different people. Wow, I never knew it could all be so much fun. I have worked with professional trainer, Victoria Parker of Bayshore Dog Training and we focused on leash walking and doggie playgroups. With a good introduction, I'm happy to interact with all sizes of dogs. Ah, I admit I'm still not interested in cats, however!
Now that I know that training can be fun, I'd love to do more of it. Did I mention that I am treat motivated and love to run around the back yard chasing tennis balls? Look, despite my graying face, I am an active boy with a lot of spirit. I get along with all humans, including children and would really love to go into a foster home or a forever home. I'm crate-trained and house-trained. Won't you consider opening your heart and giving me a chance to love you? We could have fun training together!!
8/1/17 – Well, Hi there. Glad you stopped by to see me. My name is Brody and I'm a healthy and active 8 year old looking for my very own home with a backyard. I love running around in the yard, chasing tennis balls and playing with my humans – all kinds, including children. I have to admit that I get a little reactive around other dogs so I would really like to be your one and only dog and I promise to snuggle and be a great companion.
I'm a pretty smart cookie – ah, did someone say Cookie? Yes, I am very treat motivated and recently learned commands such as sit, stay and shake. I'm very happy getting my exercise in the back yard but if you want to take me for walks, I'll need some leash training. I get a little rambunctious especially if I see a cat, a squirrel or another dog.
I do well in a crate and am fully house-trained. I'm young at heart and would really like to find a family of my own to love and a place to lay my head. Don't you think that could be at your house?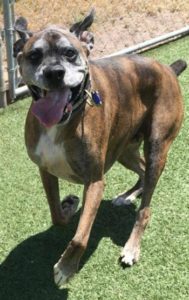 5/22/17 – Hi everyone, Brody here. I am happy to just be hanging out with my humans and / or dogs smaller than me. I've heard them call me a real charmer… but all I know is that I really like snuggling with the ladies, although if you're a guy I'll be happy to hang out with you too!
Don't let my age fool you, I like to run and play in a backyard, then nap in the afternoon. I enjoy going for walks, but I tend to feel protective of my people when I see other dogs that I don't know. If you like to go for walks, I might need a martingale harness or someone to take the time to teach me that it's OK to see other dogs on walks and I that I don't need to guard you.