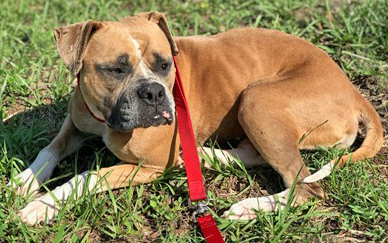 ID: A20-023
Status: Medical Pending
Age: 3 yrs
Gender: Female
Color: Fawn
Weight: 52 lbs
Ears: Natural
Tail: Natural
Children: Unknown
Dogs: Yes
Cats: Yes
Contact: Laura
Our Foster Dogs are always in need of supplies.
Please visit our Amazon Wish List to donate!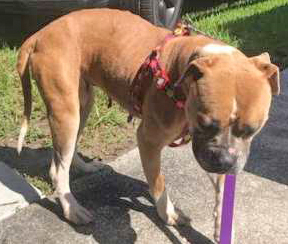 06/08/2020 – Oh I don't know what's going on. I took another long trip yesterday and left my friends at Four Paws Only. I was really scared until I got to another home where I met a very nice Mama who speaks softly and has a little dog who owns everything but turns out – she likes me! I think this will be a good place to heal from heartworms. Stay tuned!
06/01/2020 – Dollie has a sad story to tell. She was found roaming the highway where we suspect she was dumped. A good samaritan and animal rescuer got her off the highway and took her to the shelter where they called Boxer Rescue Angels to come save her. Dollie is very sweet Boxer mix, but very scared from her life of abuse. She is blind in one eye from blunt trauma and in poor medical condition. Despite her broken spirit Dollie wants to trust and will wag her tail a little when kindness is shown to her.  She will need to gain some weight, some confidence and learn that not all humans are bad.
Dollie is heartworm positive, so she will have to go through heartworm treatment in the near future.  We are looking for a quiet foster home for Dollie, someone home most of the time and who has patience and alot of love to help Dollie bloom.  A fenced yard is a must and we prefer a home with a laid back male dog to help her feel more secure and show her humans can be trusted.  Dollie appears to be non reactive to cats.
Check back with us on Dollie's progress.
If you live in Southwest Florida would like to be Dollie's Angel, please complete our online Application at https://flboxerangels.org/application/.  If you are already approved, please contact your area Lead Angel.
If you would like to donate to Dollie's care, please click this link and note in the box it's for Dollie. https://flboxerangels.org/donate/