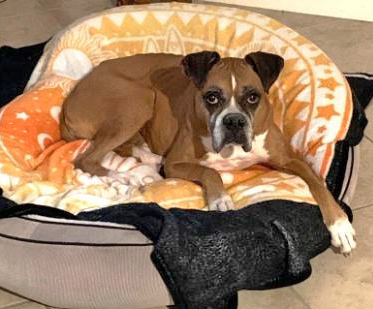 ID: A20-013
Status: Medical Pending
Age: 8 yrs
Gender: Female
Color: Fawn
Weight: 47 lbs
Ears: Natural
Tail: Docked
Children: Unknown
Dogs: Yes
Cats: Unknown
Contact: Laura
Our Foster Dogs are always in need of supplies.
Please visit our Amazon Wish List to donate!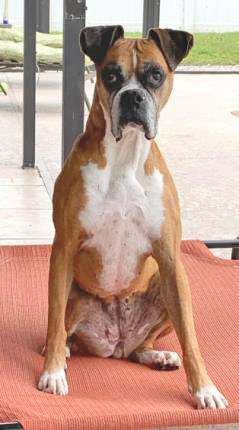 As the Angels have had to cancel fundraising events, please consider donating toward the cost of my surgery by clicking on this link and noting it is for Gabby!
https://flboxerangels.org/donate/ 
Thank You and Boxer Kisses! 
03/22/2020 – Hey All! Gabby here! Just wanted to check in and let you know I have had some changes in my life recently. I use to have half of a tail – not a whole tail and not a docked tail. Sorta an in-between tail. Well it's gone and now there is no tail. But that's a good thing because Mama said I will feel better without it the way it was. The doctor thinks I was hit by a car but I don't remember or I'd sure tell them. See, I love to talk and especially if anyone will listen.
So please keep thinking of me while I get better each day. Love you all!
3/13/2020 – Gabby has had a rough time for awhile. Getting picked up by animal control was a blessing in disguise. She has been lost for a several months and had some type of trauma damage to her tail which has caused it to be fused in a down position causing problems with bowels. We will get her fixed so she can enjoy life.
Gabby is a happy girl and loves to talk and sing! Hence, her name was carefully chosen for her. She has not met a stranger as she has a lot to say to anyone who will listen.