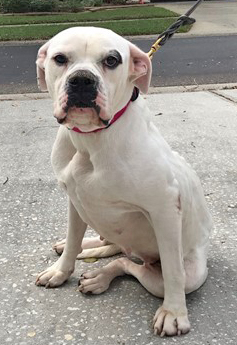 ID: A20-009
Status: Medical Pending
Age: 3 yrs
Gender: Female
Color: White with hearing
Weight: 67 lbs
Ears: Natural
Tail: Natural
Children: Unknown
Dogs: Slow intro
Cats: Unknown
Contact: Janet
Our Foster Dogs are always in need of supplies.
Please visit our Amazon Wish List to donate!
3/12/2020 – It's me, Jilly again. I went to see the vet yesterday and he told me I need to gain 10-15 lbs. as my ribs are really showing. I'm also being treated for a double ear infection, upper respiratory infection and taking Apoquel for allergies.  
I don't like being sick but the Angels are taking good care of me.  Soon the neglect I suffered will be behind me and I'll be feeling great with a new leash on life!
Check back again soon!
3/9/2020 – Hi, Jilly here!  I am slowly learning to trust people. I am allowing my fur brother Barron to get closer and I trust him.  I have no idea what toys are – my Foster Mom tossed one in the air and I had that look – what did you do that for? 
Jilly wasn't socialized and is slowly learning that not all people are bad.  Jilly is being treated for a respiratory infection now so please check back to see how she's doing.
2/26/2020 – Hi!  My name is Jilly and I had my freedom ride from the shelter today.  It was a scary place for me and I was so glad to have been rescued by BRAF. Foster Mom set up a crate as my safe hideaway and gave me a good supper as I need to gain a little weight. I was really hungry and ate all of it. It's good to finally be able to rest!
I need time to decompress and feel secure. Please check back soon for an update!