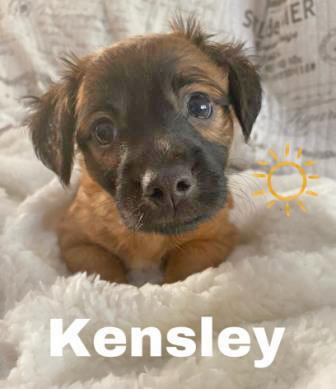 ID: A19-052
Status: Adoption Pending!
Age: 6 wks
Gender: Female – Small Terrier Mix
Color: Brindle
Weight: 3.6 lbs
Ears: Natural
Tail: Natural
Children: Yes
Dogs: Yes
Cats: Yes
Contact: Laura
Our Foster Dogs are always in need of supplies.
Please visit our Amazon Wish List to donate!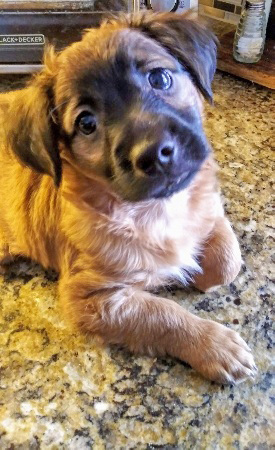 02/13/2020 – Hi everybody! Kensley here. I am ready for my own forever home now. Mama Kiara wanted us to eat real kibble and leave her alone. I wasn't happy at first but now I love it! My foster Mom put me on the kitchen counter and talks to me while she fixes my food. I love to listen to her talk to me.  Even though I don't understand her I feel the love in her tone of voice to me.
If you want to meet me, get your application in so you can!
12/1/19 – Little Kensley is 6 weeks old today and her personality has blossomed tremendously. She has the cutest tufts of hair and always in trouble with her shenanigans with her Momma. She thinks she is with the WWE Wrestling Troupe with her vocalization and rough and tumble rolls when playing with littermates or Momma, but pick her up and she melts in your arms. Kensley loves to be held and will gaze directly in your eyes with that love shining through.
This cute little mixed breed puppy will steal your heart in a flash.
We are now taking applications for these adorable puppies who will be available for adoption after 2/01/2020.