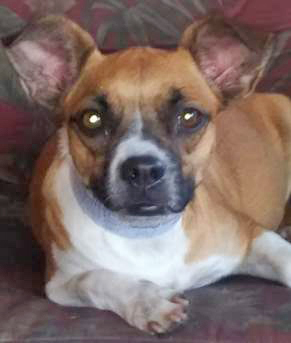 ID: A19-048
Status: Available
Age: 22 mos
Gender: Female – Small Terrier Mix
Color: Fawn
Weight: ?
Ears: Natural
Tail: Docked
Children: Unknown
Dogs: Not currently
Cats: Unknown
Contact: Laura
Our Foster Dogs are always in need of supplies.
Please visit our Amazon Wish List to donate!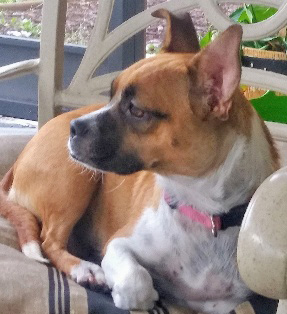 02/13/2020- Kiara (Mama KiKi) is doing great and in super health. She only needs to be spayed in about 2 weeks.
KiKi has had a difficult puppyhood. It took her 2 weeks to let us pet her and now, she doesn't want us to stop. She is starving for affection and has a high prey drive. She chases lizards, squirrels, anything that moves in her yard though has only caught lizards so far. She has really touched the hearts of the foster parents who know she knows she was saved by this rescue and is grateful.
1/6/20 – Kiara has become the sweetest little mix girl ever. Her puppies are 5 weeks old and going to be bigger than her. She has been a perfect 1st time mother and I promised her she will never have to go through this again. All she wants is the human touch. And food. The most precious little thing that has come along in awhile.
Anyone interested in a lapdog that loves to cuddle, this is your girl.
11/30/19 – Kiara is a little nugget who was very pregnant and whose life was in danger at her previous residence.
Boxer Rescue Angels was contacted about a pregnant Boxer who needed immediate help and arrangements were quickly made to bring her in to our rescue. Good Samaritans transported her safely to BRAF where she was finally able to relax and feel comfortable.
Rescue can bring surprises and Kiara was one such surprise. When our Volunteers met the transport they found a scared little girl with not a bit of Boxer in her. However, she clearly needed help and BRAF will give her the care she needs and then find her a loving forever home. Give a big welcome to little Kiara!
Kiara will be unavailable until February, 2020.