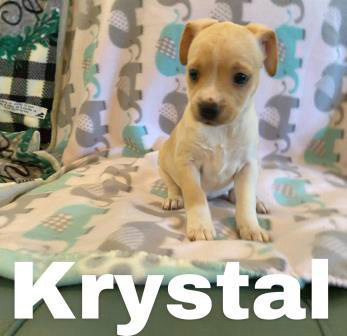 ID: A19-051
Status: Adoption Pending!
Age: 6 wks
Gender: Female – Small Terrier Mix
Color: White with Cream
Weight: 3.3 lbs
Ears: Natural
Tail: Natural
Children: Yes
Dogs: Yes
Cats: Yes
Contact: Laura
Our Foster Dogs are always in need of supplies.
Please visit our Amazon Wish List to donate!
12/1/19 – Krystal is a Kiara Kid who is a small little girl. She is such a happy, goofy puppy that it is a joy to watch her 'hopping' and feeling good. She loves her littermates and human touches. She is the 4th born out of 6 and was the only all white puppy but has turned into a pretty creme color with short hair. Anyone who likes being entertained with puppy silliness will enjoy this baby!
We are now taking applications for these adorable puppies who will be available for adoption after 2/01/2020.