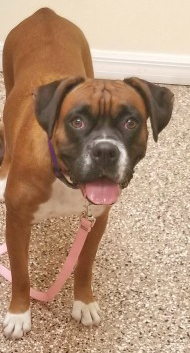 ID: A19-017
Status: Adoption Pending
Age: 2 yrs
Gender: Female
Color: Flashy Fawn
Weight: 47.2 lbs
Ears: Natural
Tail: Docked
Children: Unknown
Dogs: Yes
Cats: Unknown
Contact: Brenda
Our Foster Dogs are always in need of supplies.
Please visit our Amazon Wish List to donate!
04/16/2019 – 
Hello, my name is NovaStar and I would love to find a new and furever home! I'm a healthy and happy, petite Boxer girl. I love people and giving soft boxer kisses. I think I'd make a great companion for a retired couple. I'd even enjoy having a fur sibling. I am house trained and crate trained, although mostly, I would like to just stay by my human's side for love and attention. Wouldn't you like to meet me?
4/10/19 – Just as her name implies, pretty, little NovaStar is looking for a new life where she can shine! This young boxer female joined the Boxer Rescue Angels along with another female boxer, Ginger Snap. Sadly, they had spent most of their short lives living in an outside kennel but now, NovaStar is happy to be warm, safe and sleeping on a comfortable doggie bed! She is almost puppy-like in that everything seems new to her; a treat! a toy! Life is getting shiny!
NovaStar is no more than 2 years old and she has lived with other boxers. The Angels are working with her on leash training. She has not been introduced to children or cats, so check back on that. NovaStar loves humans – everyone that she meets gets a boxer kiss and a warm body lean. Although she is kennel trained, she will need some help with house training when she goes into a new environment. NovaStar will respond very well to positive reinforcement training, as she loves those new things called treats and attention.
NovaStar needs a new home with at least one other dog, a fenced yard to explore and humans that have the time and patience to train her. She will return that attention with love and cuddles. If you would like to meet NovaStar, please make sure you are an approved applicant or complete an application.