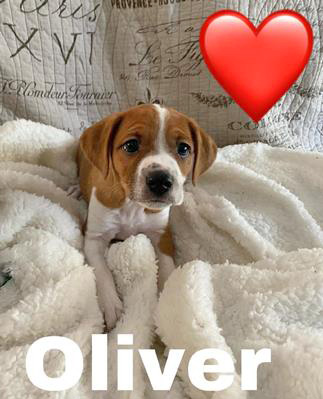 ID: A19-049
Status: Adoption Pending!
Age: 6 wks
Gender: Male – Small Terrier Mix
Color: Fawn & White
Weight: 4.7 lbs
Ears: Natural
Tail: Natural
Children: Yes
Dogs: Yes
Cats: Yes
Contact: Laura
Our Foster Dogs are always in need of supplies.
Please visit our Amazon Wish List to donate!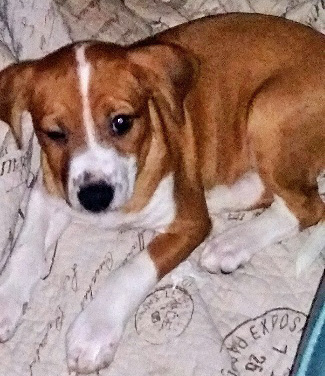 02/13/2020 – Sweet Oliver has turned out to be the tallest of the 6 littermates and is probably a little over 5 lbs. He has the legs! Being the only male in the group, he has been a bit spoiled by being held a bit more. But those eyes of his beg to be in your arms.  He is a sweetheart for sure!
12/1/19 – Oliver is the only male in the litter of 6. He is calm and loving and a real charmer. He loves to be held and kissed. But don't dismiss his goofiness in playing and showing 'his stuff'. He is a sweetie and is marked with a white line between his eyes like a boxer but not even close to one as he looks more like a beagle mix.
We are now taking applications for these adorable puppies who will be available for adoption after 2/01/2020.