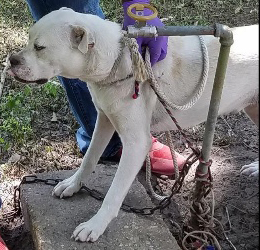 ID: A19-032
Status: Available
Age: 2 yrs
Gender: Female
Color: White with hearing
Weight: 40 lbs
Ears: Natural
Tail: Short
Children: Yes
Dogs: Yes
Cats: Unknown
Contact: Laura
Our Foster Dogs are always in need of supplies.
Please visit our Amazon Wish List to donate!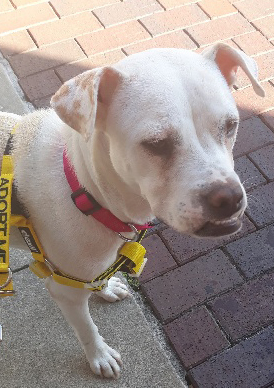 11/7/19 – Opal is still looking for her forever home. She thought she had one but her new Mom was highly allergic and with much emotion, had to bring her back. We are looking for another home with loving parents and dogs are good too. She loves to play until it's time to snuggle on the couch. Don't miss out on this special baby.
10/10/2019 – Hey everybody! I am so happy to be feeling good and loving my foster family, especially the little granddaughter when she visits. The children are my favorite things to kiss and cuddle with them.
I am initially skittish when a male dog approaches me but just for a minute as you can see in my picture I sleep with my foster brother.
Mom says I am really smart and know some tricks and even taught Mom and Dad a game. See, when they are not looking, I will go get one of their shoes and hide it under the couch, behind the curtain or any new place I can find. Then I watch them look and look until they go crazy! Ha! I don't chew or damage the shoe – just tease my foster parents!
If you are interested in one unique little girl, come meet me. I could make Mona Lisa smile! AND…..I will be at Cape Coral Bike Night this Saturday, Oct 12th, to give kisses! So come see me. You'll be glad you did!
09/08/19 – Opal is the daintiest, most ladylike little girl. She eats and drinks easy and loves to lick and cuddle with kids. She went downtown for breakfast with her foster family and drew crowds – making lots of fans. She is healing nicely from her spay and will be ready for her furever home October 1st.
Oh, she has half a tail! Not docked and not natural. Only about 6 inches and when she wags it, she wiggles from her shoulders down. Way too cute!
Get your application in asap for this sweetie!
8/30/19 – Little Opal has not had a good start to her young life, found chained and abandoned, but that life is now over. She is safe with BRAF and not looking back!  We are thankful to the good Samaritans who found her and did the long transport to save her.
Opal is settling in to her foster home, loves playing with toys and the resident male boxer, who is showing her how great life can be. Opal is a sweet girl, good on the leash and deserves the best life has to offer. As soon as she heals from her spay, she'll be ready to become the loving family member she so desires to be.
If interested in giving this sweet angel a forever home, please complete our application at HERE and ask for Opal.