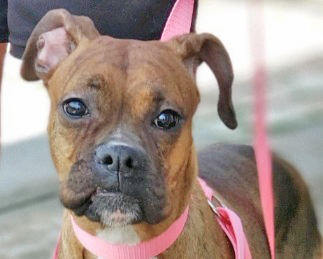 ID: A19-033
Status: Adoption Pending!
Age: 2 yrs
Gender: Female
Color: Brindle
Weight: 40 lbs
Ears: Natural
Tail: Docked
Children: Yes
Dogs: Yes
Cats: Unknown
Contact: Dawn / Jean
Our Foster Dogs are always in need of supplies.
Please visit our Amazon Wish List to donate!
WE ARE STILL IN NEED OF DONATIONS FOR TRAINING COSTS
To donate please click HERE and note in the comments box it's for The Girls. Thank You! We can't do it without You!
11/26/19 – PENELOPE AND PIPPIN 
 NEED FOSTERS
The Girls are back from professional training with our behaviorist, Todd Langston, and we are now looking for a special Foster Home for Penelope and Pippin. They are the sweetest, cutest little boxers that just need someone with patience and structure to keep them thriving. They are more confident, walking well on a leash and now house trained. They are wearing weighted vests much like a thundershirt to help them feel safer and expel more energy.
It will be essential that their Foster Home continues to follow the strict schedule and routine set by our behaviorist, Todd Langston, to keep their confidence and continue moving forward. They have come so far and to do otherwise will cause them to regress.
Penelope and Pippin can be separated and they do well on their own, but if separated it will be a requirement for another dog in the home as a companion and for play to expend some energy. They love to play with dogs of any size.
A fenced in yard will be required, as well as someone who is going to be home at regular times every day to keep them on their schedule.
These girls are very special Boxers and with your help they will be able to have a great life. Please contact us if interested in Penelope or Pippin. Thank you!
10/31/19 – Penelope and Pippin: Their Journey
Penelope, and Pippin are scared, but very sweet girls. They came to us because their owner was ill. The girls lived outside and could go in and out of a patio. Unfortunately, they did not get much socialization with people or other dogs. Our loving fosters have tried for over 2 months now to house train and get them to a point that they are not so scared. They have made some progress, but still have a long way to go.
Penelope, is a little more outgoing than Pippin. They hear a noise outside and they want to retreat right back into the house to their crates where they feel safe. They will slowly come to greet you, but when we try to bring them out of their comfort zone, they want to again retreat back to their crate. It is truly heartbreaking. They are very sweet girls and have a love for people, so we feel it is in their best interest to go to Todd Langston, a professional dog behaviorist and trainer, and live with him for a month. http://www.ocpacklife.com/
Todd is known to work with difficult cases like Penelope, and Pippin. He also did some training with Cesar Millan and Todd has graciously helped us out with discounting the fee for these girls.
We're asking for your help with Penelope, and Pippin. Even with a discount, professional training is very expensive and these girls need our help. We are so grateful that one of the girl's foster families has generously donated $2,000.00 to their care! We are very blessed to have such loving and caring fosters in our BRAF family. It is our hope to match that donation, so we can cover Penelope, and Pippin's training.
Please help us help them!! Thank you!
PLEASE DONATE TO:
https://flboxerangels.org/donate/ and note in the comments box that it's for The Girls.
10/8/19 – Pippin is one of two beautiful, scared bonded pair of sisters.  They still have a long way to go in learning to trust, but they are playing together and slowly coming out of their shells. Stay tuned for updates.
9/8/19 – Pippin has just come in to BRAF with her sister, Penelope, as their owner became very ill and could no longer care for them.  These beautiful girls are very bonded and together they are beginning to feel more secure in their foster home.  We will be learning more about them as they settle in so check back soon!