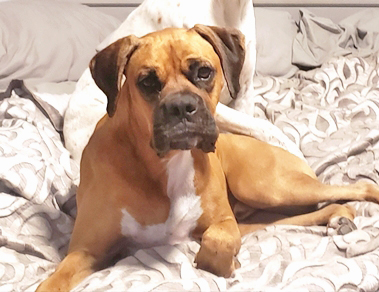 ID: A20-040
Status: Available
Age: 4 yrs
Gender: Male
Color: Fawn
Weight: 75 lbs
Ears: Natural
Tail: Docked
Children: Yes
Dogs: Selective – Alpha
Cats: Yes
Contact: Janet
Our Foster Dogs are always in need of supplies.
Please visit our Amazon Wish List to donate!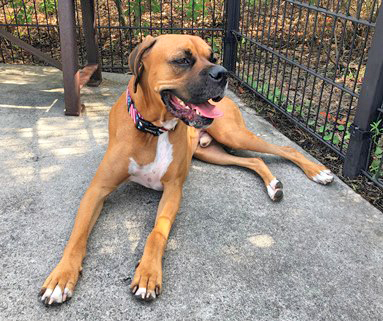 NEEDS 6 FOOT FENCE
10/23/2020 – My foster mom discovered today that I can jump four feet high.
I wanted to get in bed with my skin brother and his bed is
four feet off the floor. So, we now think I need to have a six foot fence around my yard.
Many people have asked if I am a mix. Well, we asked the expert, the vet I saw, and she says I am a Boxer 100% and I am all puppy!
10/22/2020 – Hi, Rocco here! I just got back from the vet and I am good to go. Clean bill of health!  I do have an ear infection but have medication to clear that up.
The vet says I am full of piss and vinegar… LOL!!
I am learning not to jump on people and how to walk like a gentleman on a leash. Did I happen to mention I love, love kids. I really mean it!  I love kids! I get so excited every day when they come home from school. I want to spend all my time with them.
I would love a family with a large fenced yard and children that can love on me and me on them.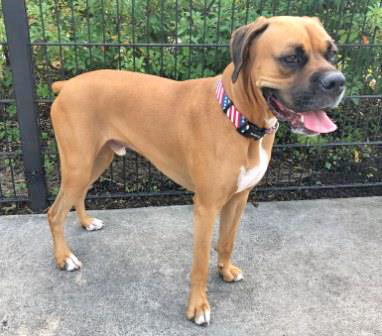 10/11/2020 – Hi!  My name is Rocco and I am new to BRAF.  Let me tell you a little about myself. I love children and want to always be with them. I am affectionate, a snuggle bug, house trained and crate trained for when my family is gone. I am full of energy like all younger Boxers and confess to needing some work on my manners as sometimes I get excited and jump and want to be in your lap. My foster parents will be teaching me not to jump as well as work on my leash walking skills. 
I like being the King of my castle which is why I needed a new home. The female where I lived wanted to be Queen and we just couldn't work it out. I'm good with cats and will lick them when they want to hang out with me. 
I'd like a family with children and a fenced yard to run as I'm quick like a flash. If I can't have a fenced yard, I'll need lots of walks or jogging with my new mom or dad.   
I'll be seeing the vet soon for a general exam and then I'll be ready for my forever home.
Thanks for checking me out. Handsome aren't I !!