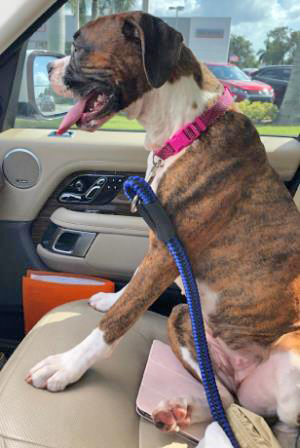 ID: A20-039
Status: Medical Pending
Age: 1.5 yrs
Gender: Female
Color: Brindle
Weight: 60 lbs
Ears: Natural
Tail: Docked
Children: Yes – older
Dogs: Yes
Cats: Unknown
Contact: Laura
Our Foster Dogs are always in need of supplies.
Please visit our Amazon Wish List to donate!
10/14/2020 – Hi…Hi…Hi!!!!
Ruby here! Or as my foster parents call me Ruby Roo!
Little bit about me… I love love love people! New people scare me a little bit so I bark while wagging my butt a whole bunch. Mum says my tail wags so much that if it was any longer I would take flight like an airplane!
I love love love love kids! Any age! I lived with teenagers before but I met some little ones (3, 6 and 8) and gave them kisses and they gave me hugs and it was awesome! Pretty soon I get to meet a baby!! I can't wait! Oh, kids don't scare me. I dont bark at them, they just get lots of kisses!
I also love love love other dogs! Big or small!! I play tackle zoomies with my foster brother (who is much bigger than me). I know he let's me win but he thinks he's hiding that! We also get lots of couch snuggles in too!
One thing… I do not like crates. They keep me away from my people and I cry and bark to get back close to you. I'm a good girl though so I really don't need one!
I know outside is for potty, not inside. I know what sit means…and well…sometimes I just don't want to…but I try!
I'm still getting used to doggie toys. I picked up a dinosaur the other day and it squeaked at me and scared me a bit! While running away from it I stepped on another toy and it made a weird noise and I barked at it. My foster brother looked at me like I was a sissy and started playing with the toys to show me they were fun. I like the ball and maybe the squeaky thing…but that dragon that makes the crinkle paper sound? Nope!
I've been sleeping in this thing called a bed with my foster parents and its awesome! I curl up by their feet and get to sleep with people all night! Mum says I'm a good girl because I dont steal blankets or pillows!
Anyways, I'm gonna camp here for a bit, learn some more from my foster brother and get fixed (I don't know what's broken but it sounds important to do!) But then I get to have my own home! I hope I have a brother to play with! Maybe a kiddo or two to snuggle with too!
Love and boxer wiggles!
Ruby Roo!!
10/08/2020 – Ruby is a young, very high energy and very loving girl.  She has not had training in manners and will be working on this in her foster home. Ruby needs some medical attention before she will be ready for her forever home.
Stay tune for updates as we get to know Ruby.