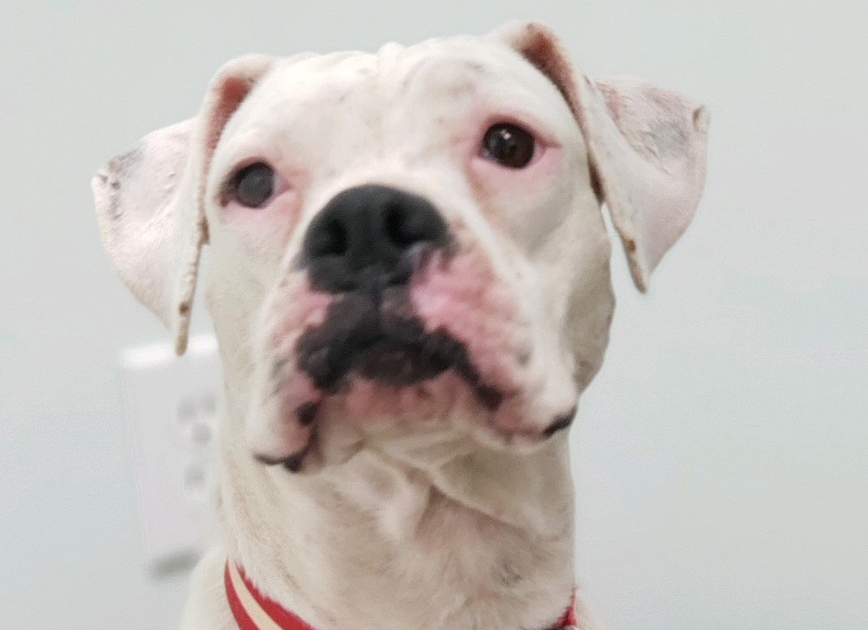 ID: A19-028
Status: Adoption pending
Age: 13 mos
Gender: Female
Color: White with hearing
Weight: 40 bls
Ears: Natural
Tail: Docked
Children: Unknown
Dogs: With her brother
Cats: Unknown
Contact: Dawn / Jean
Our Foster Dogs are always in need of supplies.
Please visit our Amazon Wish List to donate!
09/07/2019 – Snow White needs heartworm treatment before she can be adopted with her brother, Charming. He will wait for her to be medically cleared so they can be together in their furever home.
8/30/19 – 
This little princess is so small and loves to snuggle. She now loves to play with her toys and is little love. She will be adopted with her brother as they are bonded.
8/27/19 – Snow White is a sweet pocket boxer girl who is bonded with her brother Charming and we will be adopting them together. They were found abandoned by their owners along with their Mom. Her and her brother had a rough start in life and were treated very badly by humans. She is a snuggle bug and living all her new toys. She will be getting spayed this week and unfortunately she tested heartworm positive, so she will be going through treatment with her foster family. Check back on her progress.
8/20/19 – This frightened sweet little girl is coming out of her shell a little bit.
Check back in a while to see how she is going. She is half of a bonded pair with her brother Charming.