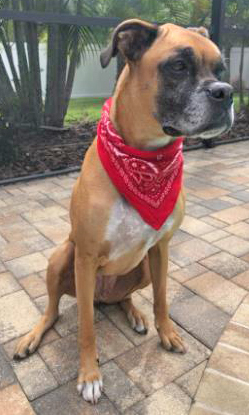 ID: A20-034
Status: Available
Age: 8 yrs
Gender: Male
Color: Fawn
Weight: 60 lbs
Ears: Natural
Tail: Docked
Children: No
Dogs: Selective
Cats: No
Contact: Janet
Our Foster Dogs are always in need of supplies.
Please visit our Amazon Wish List to donate!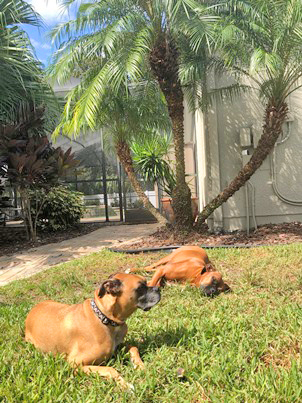 10/20/2020 – Tido here to let you know I am ready for my forever home!  I've been checked out by the vet and tested heartworm negative – wonderful news – and now I'm just waiting for my dental.
I'd love a home of my own and this is my Wish List:
A quiet stress-free adult only home where I will not need to be consistently crated every day.
Another dog, male or female, that is laid back and submissive.
A fenced yard to get out, play and lie in the sun.
Someone who understands I need slow intros with people and other dogs.
Lots of car rides, peanut butter, belly rubs and Love!
Here is more info about me from my Foster Home:
Tido has blossomed with routine and consistent commands.  His new family must be willing to continue this so he knows what is expected of him.
Having another dog with the same rules and routines has been good for Tido.  After slow intros he gets along great with our 2 and 4 year old males.  He actively engages with our dogs, runs with them in the yard, wrestles and the typical Boxer boxing. Tido has good energy for being 8 years old!
Tido is potty trained and crate trained.  He is crated when we leave the house as that is his safe place, in the same room with our dogs in their crates, with music on.  He sleeps in his crate (open or closed) at night or on a dog bed in the living room as he currently is not allowed on any furniture.
Tido is very eager to please, follows his commands from men or women, and is very excited to greet us when we return home.
He does not swim and does not like to go out in the rain or when sprinklers are running, though will go out with us or the other dogs.
Tido will bark to let you know when the doorbell rings, if he hears a car in the garage or at other dogs outside.  He is vocal when he plays, barking and growling in a playful manner.
Slow intros are needed with people and other dogs.
Tido is not comfortable with children and will only be placed in an adult home.
He wears a collar and harness when out on leash and he does pull.  This could be corrected with positive, consistent training.
Tido is a smart boy and knows sit, stay, shake, potty, crate, down, come, roll over, "out of the kitchen" and "let's go".
Tido just wants to be loved and told he's a good boy!  If you're looking for a companion to form a lasting bond of trust, love and loyalty fill out an application or contact your BRAF representative and ask for Tido!
10/04/2020 – Hi! Tido here with an update.
I am settling in very nicely at my foster home. It is a laid back place where I can just chill and not be nervous from a lot of commotion. I have learned hand signals and commands and Foster Mom says I am sooo good and doing great with our routine. I do not do well with children and all their rambunctious play, though will do very well in a quiet home with no children.
I am living with two fur brothers and after we got to know one another we've had a lot of fun playing together. It would be nice to have a buddy in my new home too as long as you take the time to introduce us. I love going outside to hang out in the sun, relax and work on my tan so I'll be expecting a fenced yard in my new home!Thanks for stopping by and please check back after my vet visit this week to see if I am ready for my forever home. Bye!!
09/23/2020 – Tido came in to BRAF this week and is settling in at his foster home where he doing well in a more quiet environment with structure and a consistent routine.
Tido is selective with dogs. The two resident Boxers are very social and laid back and after slow introductions he enjoys running around the fenced yard with his new friends. He will not be placed in a home with children as he is not comfortable with them.
We'll be setting up a visit with the vet in the next week or so for his initial exam and to update vaccinations as needed. Please check back for more info on our handsome Tido!