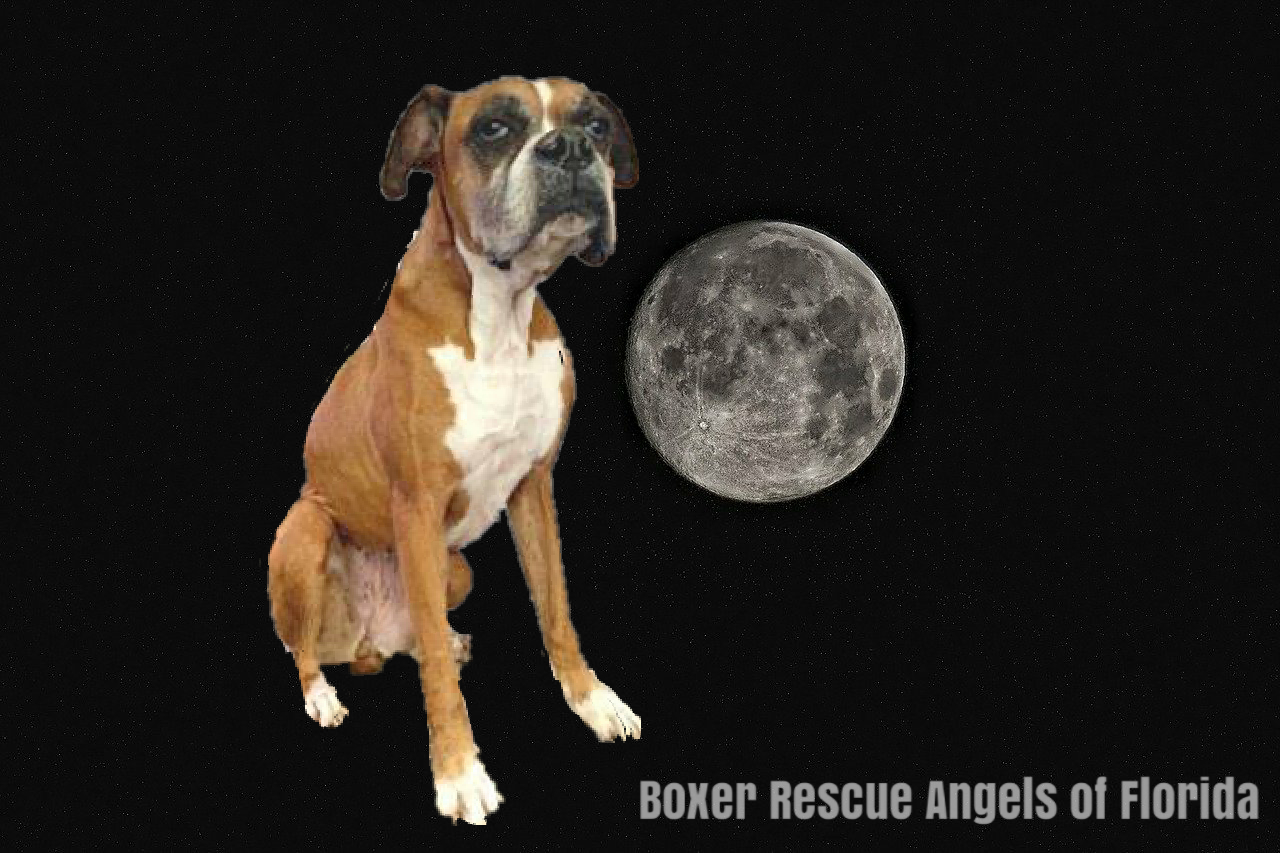 Gabby was found as a stray and picked up by animal control. This poor girl looked like she was roaming for several months just trying to survive. Getting picked up by animal control was truly a blessing in disguise as she found her way to Boxer Rescue Angels of Florida.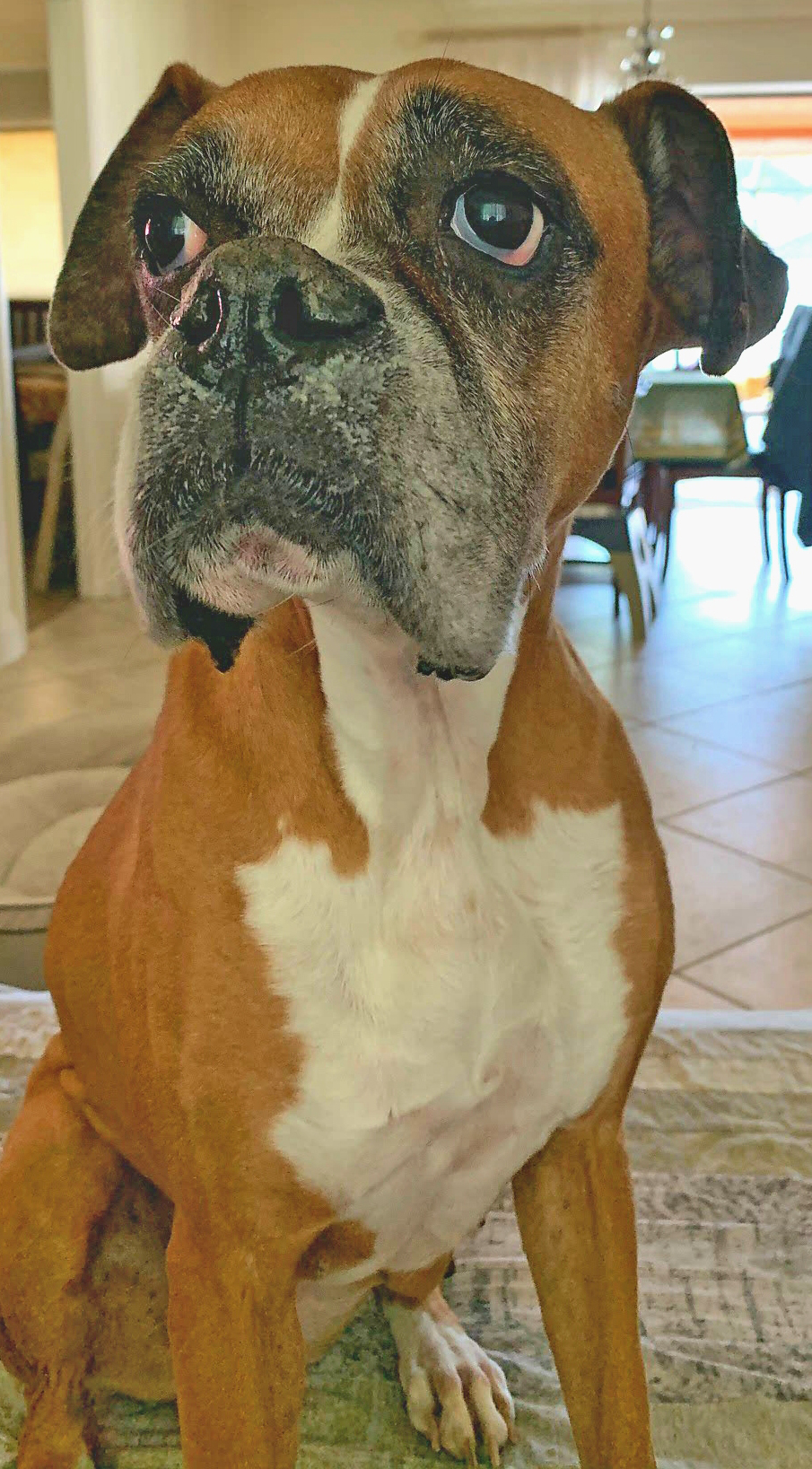 Gabby was found to have some type of major trauma to her tail. The damage  caused her tail to be fused in a straight down position causing problems with her bowels. We scheduled her for surgery and unfortunately they had to amputate her whole tail so she could function properly. The vet also found some bleeding skin tags that needed to be removed and so begins Gabby's journey back to recovery.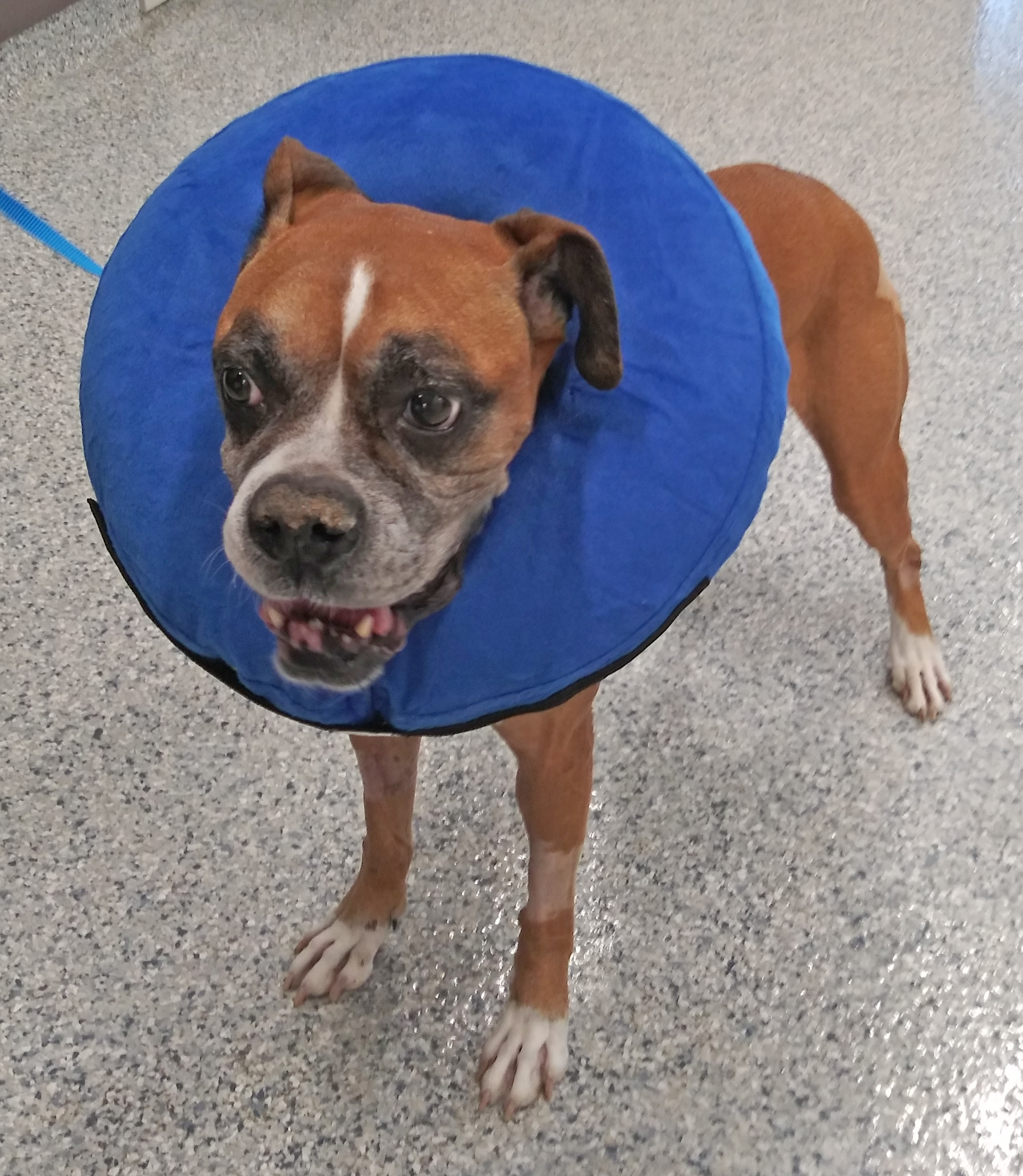 Gabby's medical bills are now over  $2500. We would like to ask some help from you through donations and sharing her story. We can't save them without you!
Gabby is a happy girl and loves to talk and sing! Hence, her name was carefully chosen for her.  She has a lot to say to anyone who will listen. Can you help her?
Changing Lives - One Rescued Boxer at a Time
YOU can help deserving Boxers get their wiggle back!
Boxers are a loyal, energetic, sensitive and mischievous breed that often remain puppy-like into their senior years. They are also strong, often stubborn and crave human companionship and attention at home.
We at Boxer Rescue Angels of Florida cannot imagine a home life without Boxers. However, they are not suitable for everyone and the qualities we embrace are often the very reason so many Boxers find themselves without a home, neglected, abandoned and surrendered.
Boxer Rescue Angels is committed to changing the lives of these Boxers! 
If you would like to help, please click the links below to learn how YOU can make a difference!
Mission Statement
Boxer Rescue Angel's mission is to rescue and rehabilitate displaced and abandoned Boxer dogs, provide veterinary care including spay/neuter, shelter in foster homes, and facilitate their adoption to carefully screened permanent homes.  In addition, BRAF provides assistance to owners who must re-home their dogs, and strives to educate the public of the importance for spay/neuter, heartworm prevention and responsible pet ownership.
Considering a Boxer?
Click the button to learn more about this breed
A COPY OF THE OFFICIAL REGISTRATION AND FINANCIAL INFORMATION FOR BOXER RESCUE ANGELS OF FLORIDA, INC. MAY BE OBTAINED FROM THE DIVISION OF CONSUMER SERVICES BY CALLING TOLL-FREE 1-800-435-7352 WITHIN THE STATE OR BY VISITING www.800helpfla.com. OUR REGISTRATION NUMBER IS CH-44237.  REGISTRATION DOES NOT IMPLY ENDORSEMENT, APPROVAL, OR RECOMMENDATION BY THE STATE. None of your contribution is retained by any professional solicitor. All contributions go directly toward our operating costs, primarily veterinary care for the Boxers. Federal Tax ID Number 47-3782498.