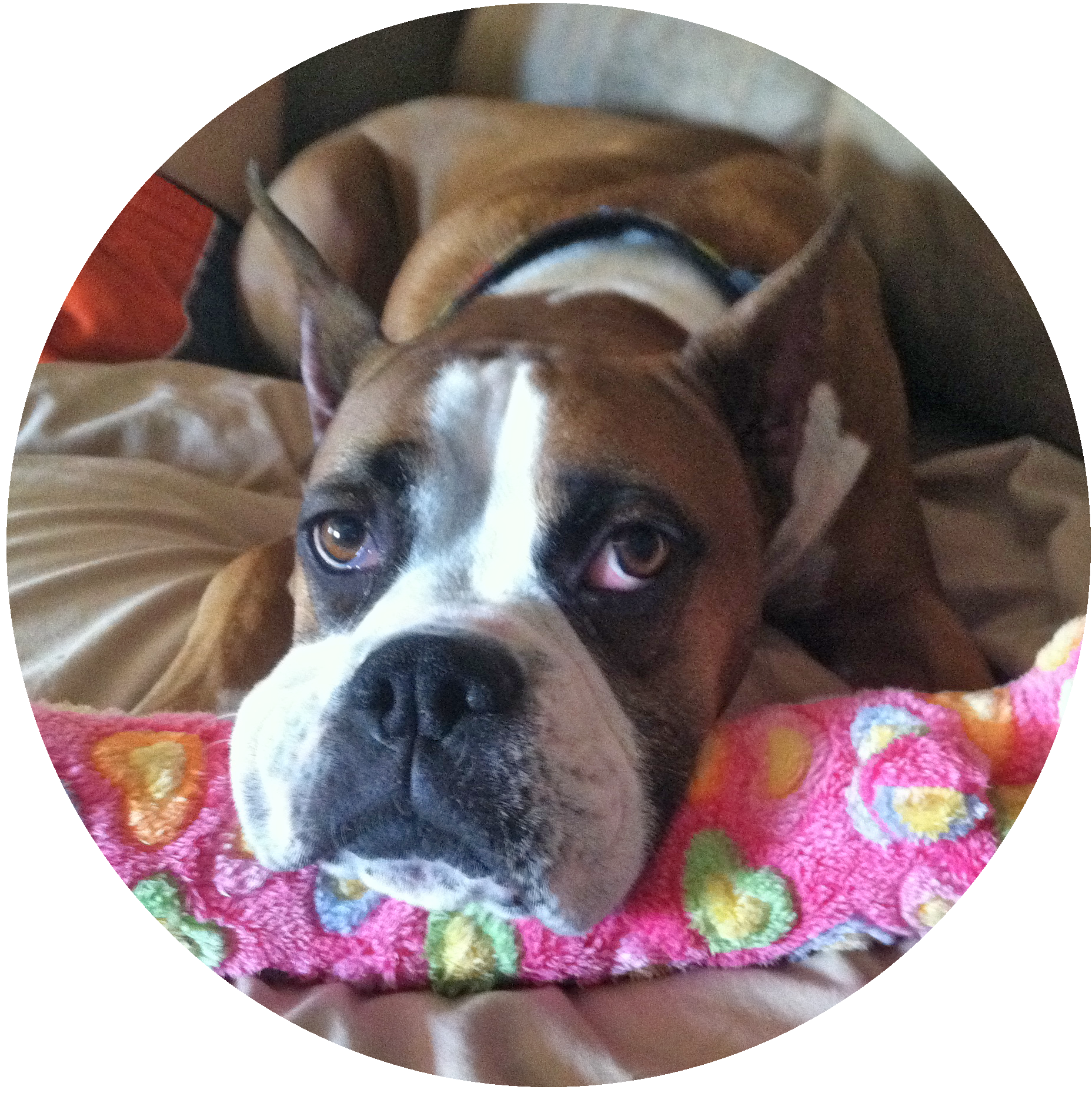 I'm a Forever Dog.
If you can't give me forever, then I'm not your dog.
IT'S REALLY THAT SIMPLE.
Thank you for your interest in adopting from Boxer Rescue Angels of Florida. Please review the information below prior to submitting your Application to adopt a Boxer.
AREA SERVED
Boxer Rescue Angels serves Central and Southwest Florida in the following counties: Charlotte, Collier, Desoto, Hernando, Highlands, Hillsborough, Lee, Manatee, Pasco, Pinellas, Polk and Sarasota. If you reside outside of this area you may be directed to another Boxer rescue organization that can serve your needs.
Boxer Aid and Rescue Coalition – Northern Florida
Coastal Boxer Rescue – Florida East Coast Daytona to Miami and the Florida Keys
Florida Boxer Rescue – West and Central Florida
ADOPTION REQUIREMENTS
You must be 21 years of age and living on your own.
Your current pets must be spayed/neutered, up to date on vaccines and on monthly heartworm preventative – confirmed by your vet.
We do not adopt our Boxers out as gifts or surprises – ever.
You must agree to a home visit prior to approval, and follow-up home visit post adoption.
We do not place females with another female. On occasion an exception may be made at the sole discretion of BRAF.
ADOPTION FEES
Adoption fees help cover the cost of medical care for all of our Boxers. The routine care provided to each dog – comprehensive health exam, current vaccines, heartworm test, fecal, spayed/neutered, microchip and general care while in the foster home – often far exceeds the adoption fee. Heartworm treatment or other specialized care can add hundreds to several thousand dollars to the cost of their care. Your adoption fee will help change the life of another rescued Boxer!
8 weeks to 12 months – $350
13 months to 3 years – $300
4 years to 6 years – $250
7 years and up – $175
ADOPTION PROCESS
The adoption process begins when you submit your application. Please understand we are all volunteers and the adoption process may take several weeks. Providing thorough information will help expedite this.
Preliminary Screening – Upon receipt of the application all references will be checked, including the vet, landlord and HOA (if either is applicable). If any information is lacking, additional details will be required before moving forward. Once this part of the process is completed and approved, a member of our Application Team will call you to go over your application and answer any questions you may have. You will then be contacted regarding the status of your application and if applicable a home visit by one of our Volunteers will be arranged at a mutually convenient time.
Home Visit – This is an important part of the process and helps us when considering the best placement for both you and the Boxer. We do require that all members of your household be present, along with your family dogs. Once the home visit is complete, and our Volunteer has submitted the necessary paperwork, you will be notified of your application status.
Placement – Once approved, a member of our Placement Team will begin working with you to find the best match for your family. There may be times several families are interested in the same dog. BRAF does not adopt on a "first-come first-served" basis, instead we carefully consider the needs of both the family AND the Boxer to ensure a successful match is made. The Foster Homes know their dog best and you will have the opportunity to discuss potentially suitable dogs in detail with them. A meet and greet at the Foster Home may then be arranged. If you, the Foster Home and Placement Team agree the dog is a compatible match, arrangements will be made for adoption.
Adoption Day! Please be sure you have everything you will need for your new family member. You will be required to sign a legally binding Adoption Contract and pay the adoption fee. You will receive the Boxer's medical records as part of the Adoption Packet.
Please give your new Boxer plenty of time to settle in with you, your home and other family pets before introducing it to your friends, going to dog parks, etc.  Our Volunteers will check in with you over the next few weeks to be sure all is going well and to answer any questions you may have.
PAWS TO READ
Adopting a Boxer, or any dog, is a serious commitment, to be made only after careful consideration and research. Boxers are a wonderful breed, though not suitable for everyone.
The Boxer
provides information to consider.  Be honest and realistic in determining how much time you will be able to spend with your Boxer, a breed that craves human companionship and does not do well if left alone and ignored. Are you willing to provide the exercise an energetic Boxer requires on a daily basis? Are you financially able to care for unexpected health issues which may arise over the Boxer's life? It must be the best decision for both you AND the Boxer.
A commitment is a promise to take care of your Boxer for life, to be a true family member. A Boxer will give you their love and commitment for the rest of their life. If you can promise the same please click on the link below to submit an application.
If you love Boxers but are unable to commit for 10-12 years, please consider helping us change lives by fostering or volunteering. Please use the application below to apply and check "Foster" and/or "Volunteer".
You may also Contact Us to discuss these opportunities with one of our Volunteers.
A COPY OF THE OFFICIAL REGISTRATION AND FINANCIAL INFORMATION FOR BOXER RESCUE ANGELS OF FLORIDA, INC. MAY BE OBTAINED FROM THE DIVISION OF CONSUMER SERVICES BY CALLING TOLL-FREE 1-800-435-7352 WITHIN THE STATE OR BY VISITING www.800helpfla.com. OUR REGISTRATION NUMBER IS CH-44237.  REGISTRATION DOES NOT IMPLY ENDORSEMENT, APPROVAL, OR RECOMMENDATION BY THE STATE. None of your contribution is retained by any professional solicitor. All contributions go directly toward our operating costs, primarily veterinary care for the Boxers. Federal Tax ID Number 47-3782498.