Thank you for considering to Adopt, Foster or Volunteer to help a rescued Boxer! While the application may seem lengthy, the more information we have helps to ensure placements are right for both the Boxer and the Adopter or Foster Home, and Volunteers are pre-approved should they choose to adopt.
Prior to completing the Application, please review the Adopt page for our adoption requirements, fees and policies.
Boxer Rescue Angels serves Central and Southwest Florida only in the following counties:  Charlotte, Collier, Desoto, Hardee, Highlands, Hillsborough, Lee, Manatee, Pasco, Pinellas, Polk and Sarasota.  As we do not have volunteers to process applications outside of this area, please review the map below and apply with the Boxer rescue organization that serves your area.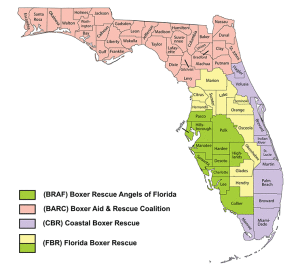 (Click map to enlarge)
Fields marked with an * are required.
Please do not leave any blank fields.  Type in "None", "Unknown" or "N/A" as the application will not submit if required fields are left blank.