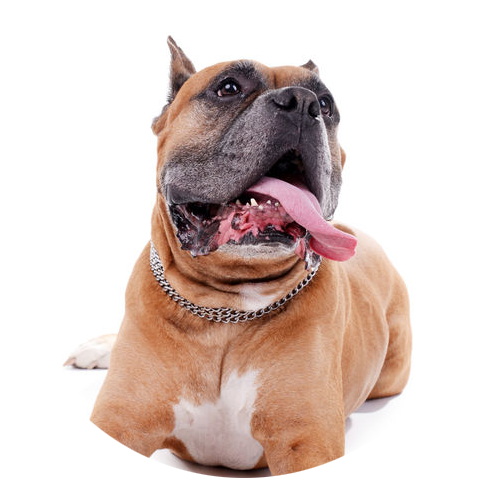 Forever Care
Boxers in our Forever Care program are those who are not available for adoption primarily due to medical conditions, emotional or behavioral needs.
Forever Care Boxers have permanent homes with our special Foster Angels who ensure their lives are filled with love and companionship, and provide the care needed to maintain comfort and quality of life in the time they have with us.
Please consider making a tax deductible Donation to help cover expenses
for the daily needs and medical care of our Boxers in Forever Care.
Your generosity will help keep them happy and comfortable.
Boxer Kisses on their behalf!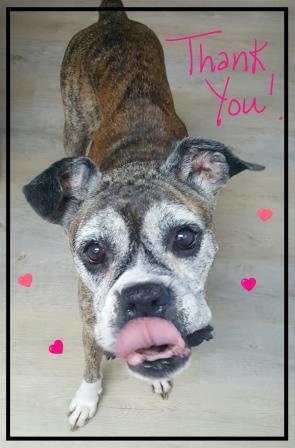 Sweetpea's Story of Survival
Sweetpea, a 9 yr old silver senior, came to BRAF as an unwanted neglect and abuse case. The people who brought her to the shelter requesting she be euthanized. She was emaciated at only 44 pounds. She had a suspected stab wound to the chest, infected ears and a large ulcerated mammary tumor. Her nails were so long she couldn't walk right. Sweetpea was evaluated at the shelter and due to her sweet disposition and her seemingly will to live, the shelter took her to an emergency vet for wound care and contacted Boxer Rescue Angels of Florida who stepped in to help her.
Sweetpea was pulled in to rescue on May 4 and loving foster homes and angels took care of her around the clock. She finally gained a few pounds with the help of home-cooked chicken and veggies and eventually was strong enough for surgery to remove the tumor. Sweetpea has been holding her own and has been fighting to get better. Unfortunately, her tumor biopsy came back as cancer. Her next step is to see the cancer specialist to see how advanced her disease has progressed.
This precious girl is a jewel and endears herself to everyone she meets. Though Sweetpea has had a rough couple of weeks, she is happy and loving being loved on.
Please consider donating toward Sweetpea's continuing veterinary care, joint support supplements and treatment of atopic dermatitis. Just click on the Donate button below and note it is for Sweetpea.
A COPY OF THE OFFICIAL REGISTRATION AND FINANCIAL INFORMATION FOR BOXER RESCUE ANGELS OF FLORIDA, INC. MAY BE OBTAINED FROM THE DIVISION OF CONSUMER SERVICES BY CALLING TOLL-FREE 1-800-435-7352 WITHIN THE STATE OR BY VISITING www.800helpfla.com. OUR REGISTRATION NUMBER IS CH-44237.  REGISTRATION DOES NOT IMPLY ENDORSEMENT, APPROVAL, OR RECOMMENDATION BY THE STATE. None of your contribution is retained by any professional solicitor. All contributions go directly toward our operating costs, primarily veterinary care for the Boxers. Federal Tax ID Number 47-3782498.