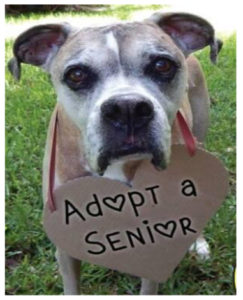 For this month only (JULY), we are encouraging you to adopt a senior for only $75.00.
These silver boxer babies are usually house trained, up to date on shots and trained how to wiggle into your heart.
Adopt one of these seniors and make your home a loving place for you, your family and the wonderful senior boxer baby.
Did you know older Boxers (often referred to as Silver Boxers due to the silver hair that begins
to appear on their muzzles and body) are absolutely the best?! Please consider giving a Silver Boxer a Forever Home! There are so many who sit in rescue for a long time only because of their age, which we don't understand as Silver Boxers are Gold! They still like to play but enjoy quiet snuggle time with you too. There is nothing more rewarding than giving a Silver Boxer a safe and happy home for the rest of their life. They will enrich your life as much as you do theirs. Ask anyone who has done it….including many of the BRAF Volunteers…you won't be disappointed!
---
Top Twelve Reasons to Adopt a Silver Boxer
Loyalty. Silver Boxers seem to know they've been rescued, and will give you their limitless gratitude, love, and loyalty in exchange.
Silver Boxers are housetrained. You won't have to go through the difficult stage(s) of teaching a puppy house manners and mopping/cleaning up after accidents.
Silver Boxers are not teething puppies, and won't chew your shoes and furniture while growing up.
Silver Boxers can focus well because they've mellowed. Therefore, they learn quickly.
Silver Boxers have learned what "no" means and they want very much to please.
Silver Boxers settle in easily, because they've learned what it takes to get along with others and become part of a pack.
Silver Boxers have a tremendous amount of love to give. You will have a best friend for life.
What You See Is What You Get. Unlike puppies, Silver Boxers have grown into their shape and personality. Puppies can grow up to be quite different from what they seemed at first.
Silver Boxers are instant companions — ready for hiking, car trips, and other things you like to do.
Silver Boxers leave you time for yourself, because they don't make the kinds of demands on your time and attention that puppies and young Boxers do.
Silver Boxers let you get a good night's sleep because they're accustomed to human schedules and don't generally need nighttime feedings, comforting, or bathroom breaks.
Silver Boxers reward your care with an unwavering devotion. Nothing matches the gratitude of a Silver Boxer for his rescuer.
Please consider opening your heart and home to one of our Silver Boxers.   You will be the recipient of grateful love and devotion from a less demanding companion and your years together will certainly be the best years in the Silver Boxer's life.
Adapted from The Senior Dogs Project and The Sanctuary for Senior Dogs